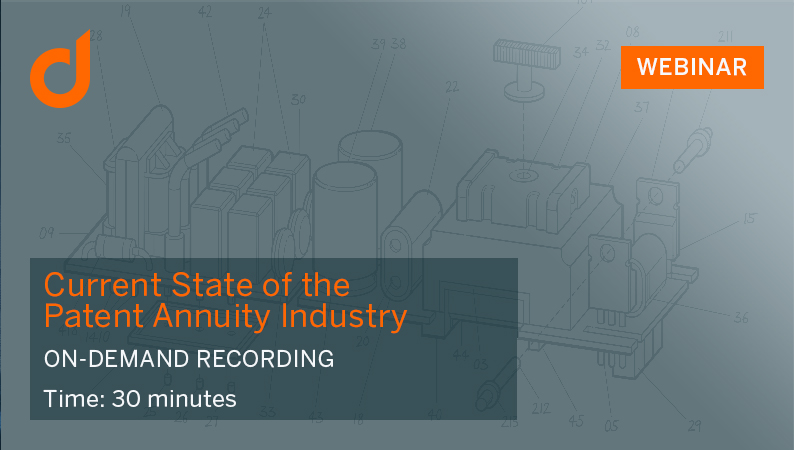 What does future of patents hold in 5, 10, even 15 years? Join Jay and Leon as they discuss key trends in the patent arena. What are or should you be doing to prepare?
Even though Jay and Leon don't have a magical crystal ball, their years' of experience in patents provide a sound foundation to draw from for industry trend analysis - and yes, a little speculation. They will also draw from conversations held in 8 cities at the recently concluded Forum - The Future of IP and Technology Law Forum - where hundreds gathered to discuss these topics.
There will be time at the end of this hard-hitting, 30-min webinar for audience questions.
Speakers
Leon Steinberg
Managing Director, Dennemeyer North America
Leon Steinberg is the Managing Director, North America for Dennemeyer Group. Prior to joining Dennemeyer Leon was the Chairman of the Black Hills Group and served as CEO of Black Hills renewals business and its technology businesses. Leon was previously the founder and CEO of Intellevate and the CEO of Foundation IP, both of which were sold to CPA Global. After the sale, Leon served as a member of CPA Global's senior management team.
Leon is a lawyer and a former partner at the Maslon law firm in Minneapolis. Leon founded and served as CEO of Meritas and was an owner and former President of Super Lawyers and Law Politics magazine. He was an adjunct professor at the University of Michigan Institute on Law Firm Management. Leon is married, with four beautiful children, and one not so beautiful child. He enjoys running, skiing, tennis and is known to have an irreverent sense of humor.
Jay Erstling
Patterson Thuente IP
Prior to joining Patterson Thuente IP, Jay served as Director of the Office of the Patent Cooperation Treaty (PCT) and Director-Advisor to the Director General of the World Intellectual Property Organization (WIPO) in Geneva, Switzerland, where he was instrumental in reforming PCT policy and expanding and modernizing the PCT system.
Jay also serves as an advisor and expert witness on PCT, NAFTA and WTO matters, in particular on behalf of major pharmaceutical manufacturers, and as a consultant to foreign governments on WTO TRIPS compliance issues. Recently, Jay served as an expert witness in the UNCITRAL/ICSID arbitration Eli Lilly and Company v. The Government of Canada.