 DIAMS — Intellectual Property software
Take control of your IP portfolio like never before with Dennemeyer's DIAMS software solutions for Law Firms, Corporations and organizations of any size.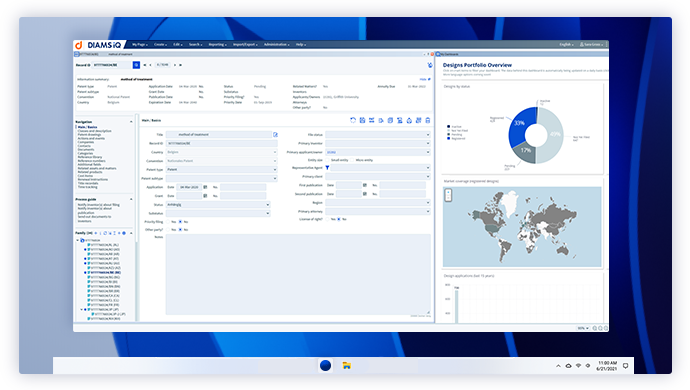 Flexible software ideal for modern IP management
As organizations expand into new industries and broaden their global presences, their IP portfolios expand as well, and management of these assets becomes increasingly complex. You cannot afford to fall behind in portfolio upkeep, lest you risk losing control of patents, trademarks or other IP. DIAMS is Dennemeyer's cutting-edge IP management software designed for establishing comprehensive control of the most diverse and multi-jurisdictional portfolios.
Summary
The key benefits of DIAMS
Integrated and flexible
DIAMS offers seamlessly integrated document management and auditing features, and can be easily customized or scaled to meet any organization's unique needs.
Reliable security
You can store your IP portfolio data either in the cloud or with Dennemeyer's secure on-premise data centers in Luxembourg.
DIAMS iQ is a state-of-the-art flexible Intellectual Property software that reflects all disciplines of IP management. Innovate, collaborate, analyze and report, coordinate resources, automate workflows. DIAMS iQ is available as scalable solution for IP law firms or corporate clients, in a variety of flexible hosting options.